Joinchat is the WordPress plugin that connects your website with instant messaging applications such as WhatsApp and many other support channels. There are also there are other irresistible features of the premium version converted into the ideal complement to impact, attract and attract the attention of users who browse the pages of your web project or online business.
The battle for attention
It is becoming increasingly difficult to attract a new visitor. Nowadays, there are so many marketing techniques to condition biases, that we could consider it a real challenge. Once they load the website on their device, we start to struggle with inattention. The attraction of your potential is increasingly scarce, because the first visual impact is made in just a few seconds, there are many stimuli and little or nothing surprises them. In that valuable time to awaken their interest, users continue to scroll through an infinite scroll without reading or browse without flinching. While you think you have them on the boat, they still find it hard to focus and continue to make a quick opinion of your website looking for something that motivates them and immediately resolve their doubts, so it can be concluded that getting the attention of your leads is very complicated.
A floating button to dominate them all
Joinchat is so original and simple that it behaves on your website as a disruptive communication element in both desktop and mobile versions. We must understand that it is essential to make the visitor's reptilian brain react, the one that values its own tastes, personal preferences and only appreciates the details that have a good impact on it. The one that makes the best decisions needs, above all, a quick and differentiating strategic contrast that does not let him think too much and that is capable of hooking him. When users navigate on autopilot, we must help them to follow the marked path in their mind and to quickly choose between some relevant options to continue on the path to conversion. Once guided and recommended, they will finally feel at ease and comfortable on the sales page where they will start a friendly and trusting conversation with the supplier. A commercial support agent must create a close and safe environment in which the customer receives (almost) immediate assistance of proximity. The friendly button will be there, it will remain impassive (in a non-intrusive way) accompanying him at all times.
Each page can have different CTA messages
Did you know that you can configure the call to action displayed from the Joinchat CTA window on every WordPress publication? Yes, it is possible, either at the page level, post, product, CPT, category or tag level, all easily integrated, available from the Gutenberg Edit in the wp-admin.
Remember that the message of the CTA window on the home page or landing page does not necessarily have to be the same as the one on the sales page and the argument can be adapted at any time to lead the leads where you want them to go. Add texts, images, animated GIF or videos to surprise them with the most relevant promotions through suggestive messages. Lead them quickly through links to the sales pages, as this is where the conversion actually takes place. And also customize the appearance of different support agents depending on the page you are visiting 😉.
Drives the lead through the sales funnel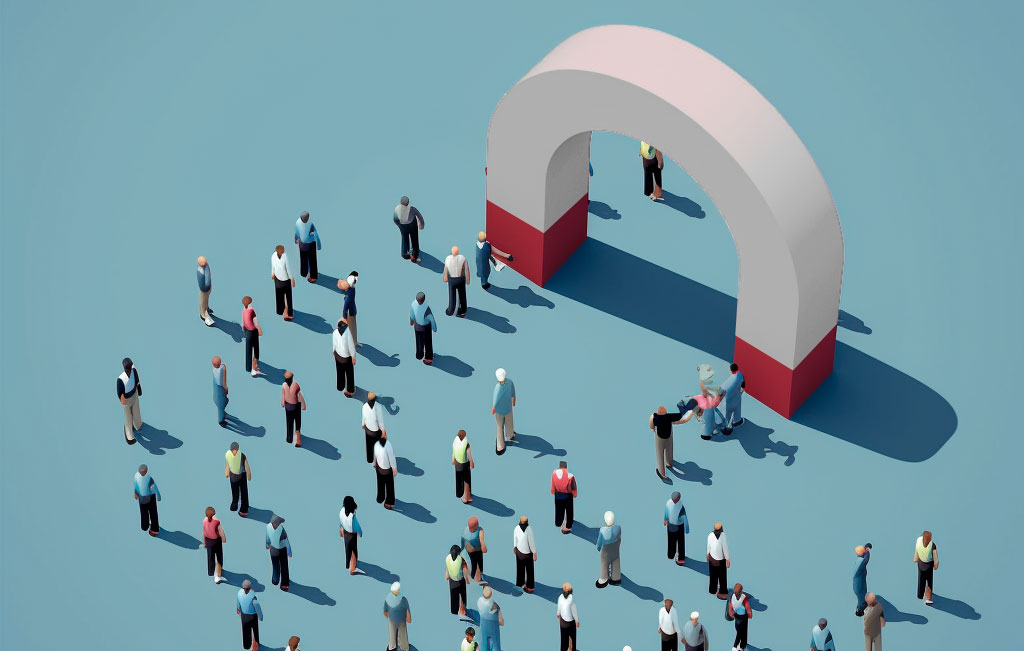 Selling is a refined technique and an art of seduction, not a simple catalog with good offers. Good support should help lead the lead through the sales funnel. The moment you internalize how to develop an internal linking strategy you can project its great potential and you will get better results with all the tools we provide you. Think about it, if you manage to take your leads in a direct and daring way, from the home or landings to the sales pages, you will surprise them with a WOW. Remember that you can introduce an irresistible promotion, with descriptive text, a cart link with a discount code applied, a button with an internal link, a funny animated GIF or a powerful embedded video. All this happens right when we interact with the "magnet button". At that moment, the CTA window pops up and voilà… and we let its content grab us.
How to guide leads through a dynamic flow
Do you even know your customers' thoughts? The vast majority of your customers' decisions are not conscious. It is not about studying cognitive neuroscience, but about knowing their FAQs and identifying their fears and emotions when they are served, because that can affect their buying habits. Don't forget that consumers don't end up remembering what we told them, but how we made them feel and the user experience they received. Anticipate potential customers' questions, it is very logical not to know what to answer them all. To solve this, help them choose what their interests are and let them decide what they prefer.
Much more than a WhatsApp link
You can still see among the active Joinchat installations, free users who simply configure the plugin with basic settings. That is, they only put the phone number with a direct link to the WhatsApp account so that their prospects can write to them on the fly, but be careful! As soon as you have some traffic, generated by an Ads campaign, social networks or a page well positioned by SEO, in all likelihood they will start riddling you with chats without mercy and you need to QUALIFY THEM.
You need customers, no more wasted time
Think that you need to capture more leads to get more sales on each page of the website, aligning your commercial proposal and above all avoiding that they write to you for any reason, making you lose effective and productive time. Your time is precious and above all let the direct support act just for the end.
New Chat Funnels functionality
Assist your leads thanks to a chatbot. Visitors will be captured, qualified and segmented through flows so that they can arrive more quickly to the product or service detail page where they can finally be attended. In addition, contact support application buttons can be displayed at specific times, so that traffic will find what they are looking for and only ask questions when necessary.
Would you like to see it live? We have an example developed in action at https://join.chat/en/chatfunnel/