Social Feed Gallery is an excellent plugin that allows you to easily integrate your Instagram account with WordPress. Let's have a closer look at what this plugin has to offer and why it's one of the best Instagram WordPress plugins.
Why use an Instagram WordPress plugin?
With more than 2 billion active users, Instagram is one of the most popular social media apps in the world. 70% of these users are under 35 years old and most of them use the app on a daily basis.
And the good news is that you can leverage Instagram's popularity and use it to increase your users' engagement.
One of the best ways to do that is by displaying Instagram feeds on your site. That way, your users won't have to leave your site to check Instagram, helping you boost their time on your site.
Social Feed Gallery
There are many Instagram plugins for WordPress out there, but Social Feed Gallery is arguably one of the best ones.
This plugin was designed to simplify the integration between the two platforms and helps you showcase your Instagram feed on your website.
You can display feeds based on IDs (@) or tags (#) and customize the feed's layout. You can choose to display it as a gallery, a carousel, masonry, or a highlight.
On top of that, Social Feed Gallery comes with many personalization options. You can customize the appearance of the boxes, images, backgrounds, masks, and buttons, to give them the look and feel of your site.
You can also add a Load More button to display more images of your feed and change the colors and borders. Another interesting feature is the possibility to add a customized feedbox with an avatar image, username, and custom description.
Another highlight of Social Feed Gallery is its performance. This plugin caches images and testimonial data from Instagram automatically to keep the feed up-to-date. And it does so through a fully optimized API that minimizes the number of server requests and reduces the loading time.
How does Social Feed Gallery work?
Another advantage of Social Feed Gallery is that it's super easy to use and the integration takes literally takes seconds.
To integrate Instagram with WordPress you only need your Instagram access token. Follow the instructions to paste the token on your site and you are good to go.
This plugin is also a great option for sites with several Instagram accounts. It lets you include unlimited users and create separate feeds for each. And you can customize each feed with its own layout, images, colors, and more.
How to Create a Feed?
Social Feed Gallery makes the process of creating Instagram feed galleries super easy in 3 simple steps:
Let's have a look at this process in detail.
1. Create Instagram Access Token
After installing the plugin, the first step to integrating your site with your Instagram Feed is to create an Access Token.
The access token is a secret code generated by Instagram that identifies your account and allows Social Feed Gallery to query the API and display the feed.
To create the Access Token, go to Social Feed Gallery on your WordPress admin panel, head to the Accounts tab and select the type of account you want to add (Personal or Business). This will depend on the type of account you have.
NOTE: Keep in mind that if you want to display a feed of a hashtag you'll need a business account.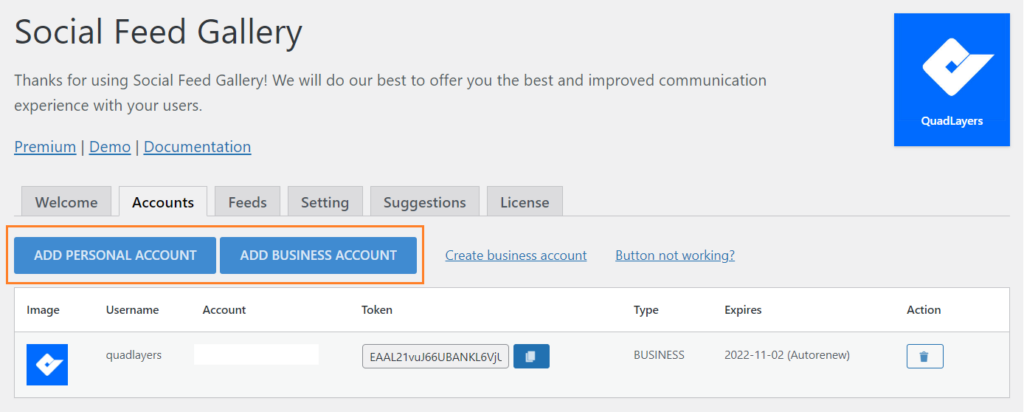 If you aren't familiar with business accounts and want more information about them, check out our tutorial on how to create a business Instagram account.
After you select the account type, if you are already logged in to Instagram in the current browser, you have to authorize Social Feed Gallery to get access to the data. Then, you'll be redirected back to the plugin with the access token.
If you aren't logged in to your Instagram account, you will be redirected to Instagram (or Facebook if you have a business account) to enter your login credentials and create the access token.
Once you do that, your Instagram account will be integrated with WordPress and you will see all the information in the Feed Gallery plugin.
Make sure you don't share this data with anyone that doesn't belong to your organization as it will allow them to access data.

2. Create Instagram Feed Gallery
Now that you have linked your account, it's time to create a Feed.
To do this, go to the Feed tab and press the + Feed button.

Here you will be able to access the settings of the Feed you are creating.
Each feed allows you to select between username or hashtag sources, in addition to the design layout that suits your preferences: Gallery, Carousel, Mansory, or Highlight.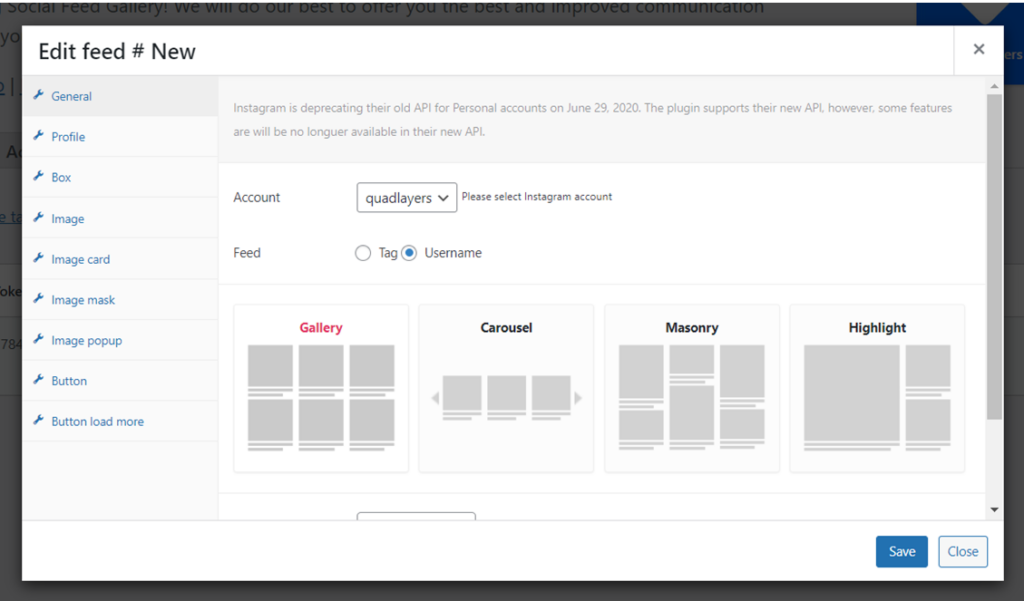 Keep in mind that you need an Instagram business account to enable the hashtag feed. For more information about this, have a look at this documentation.
The Social Feed Gallery plugin also offers a wide range of customization options that we see below.
Image Card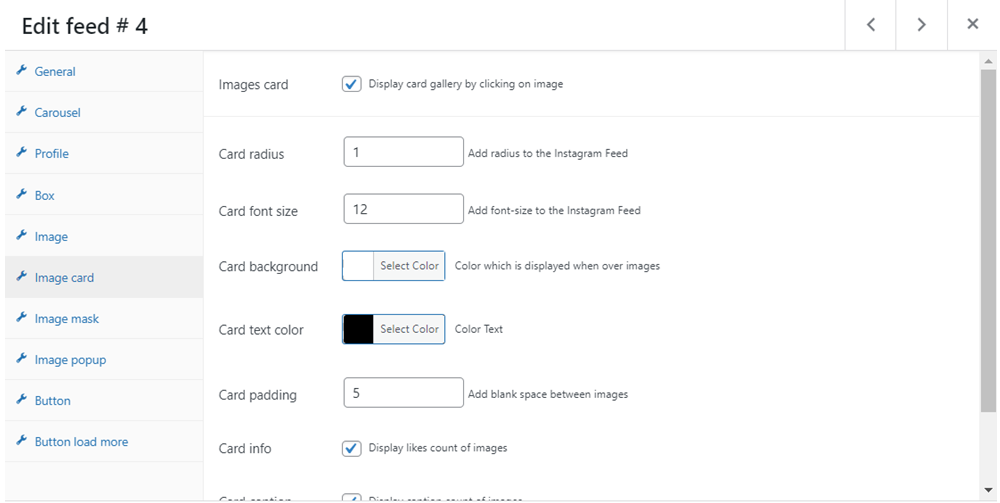 This allows you to configure a card box for each image of the Instagram feed. You can customize the values of the radius, font size, the background color and display certain information on the card, such as the number of 'likes' ', or the description of the images.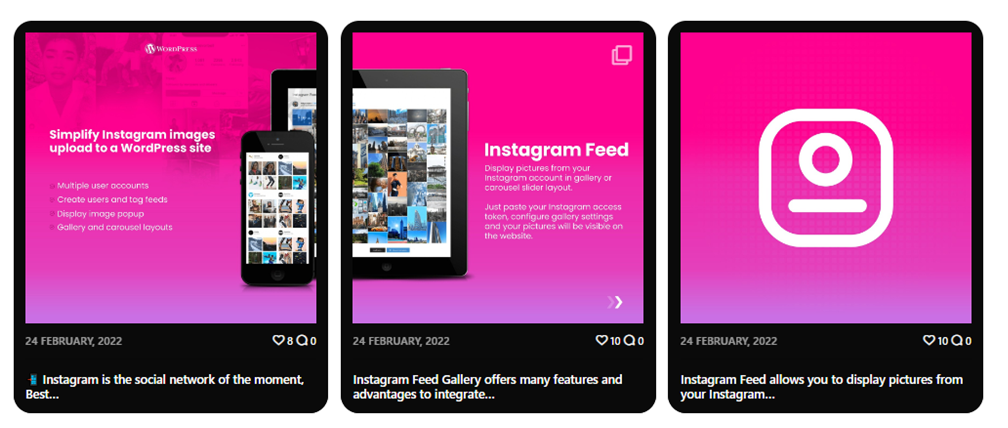 Image Mask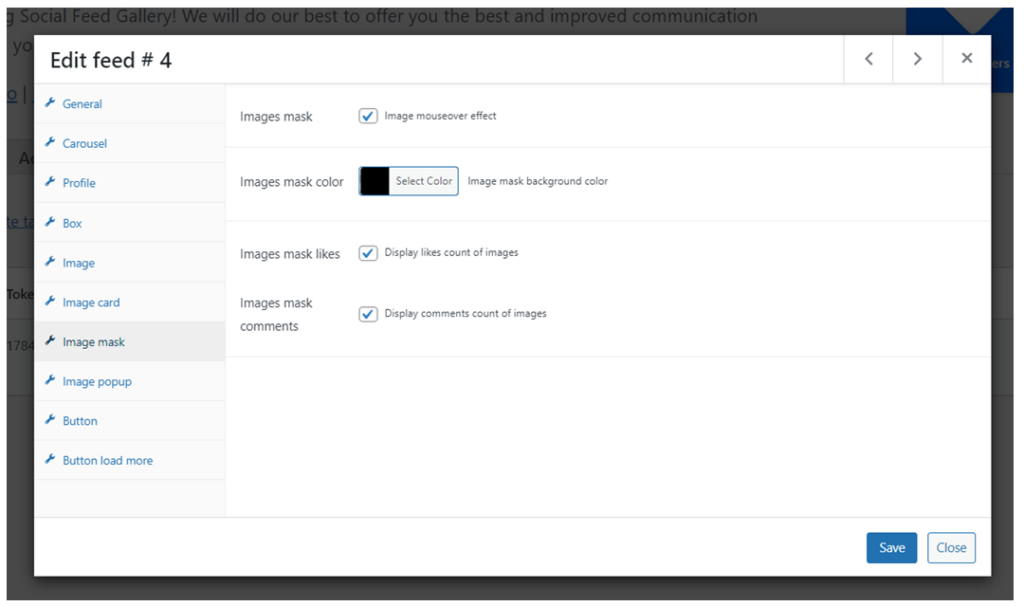 Here you can display a mask on the images of the Feed when the users hover over the feed and set up the color, background, likes, and comments count.
Image Popup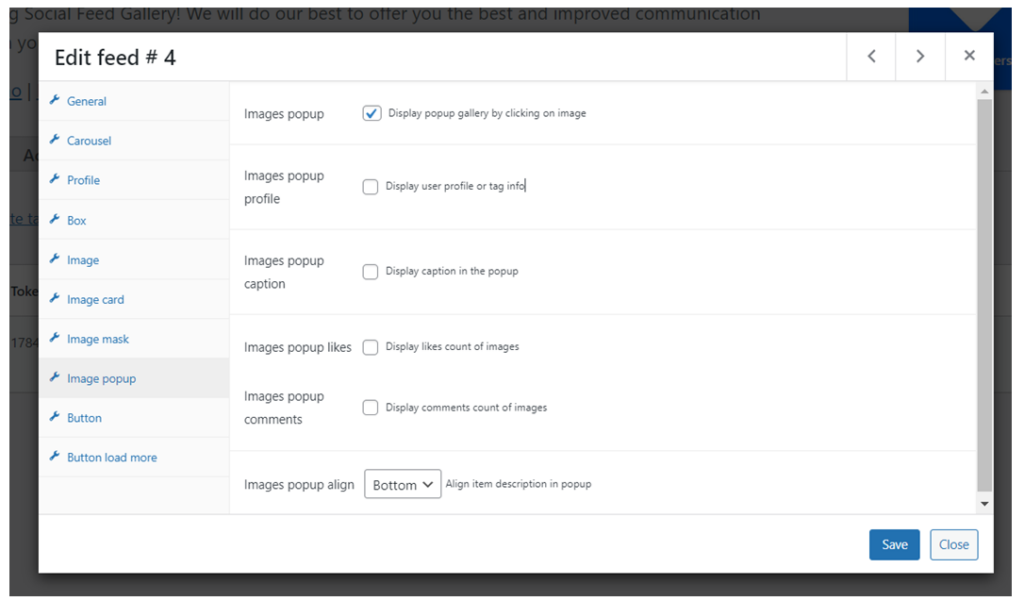 Here you can enable an extended view of the feed images in a pop-up window that will be displayed to the user when they click on the images.
You can customize its position and display the profile, description, or comments too.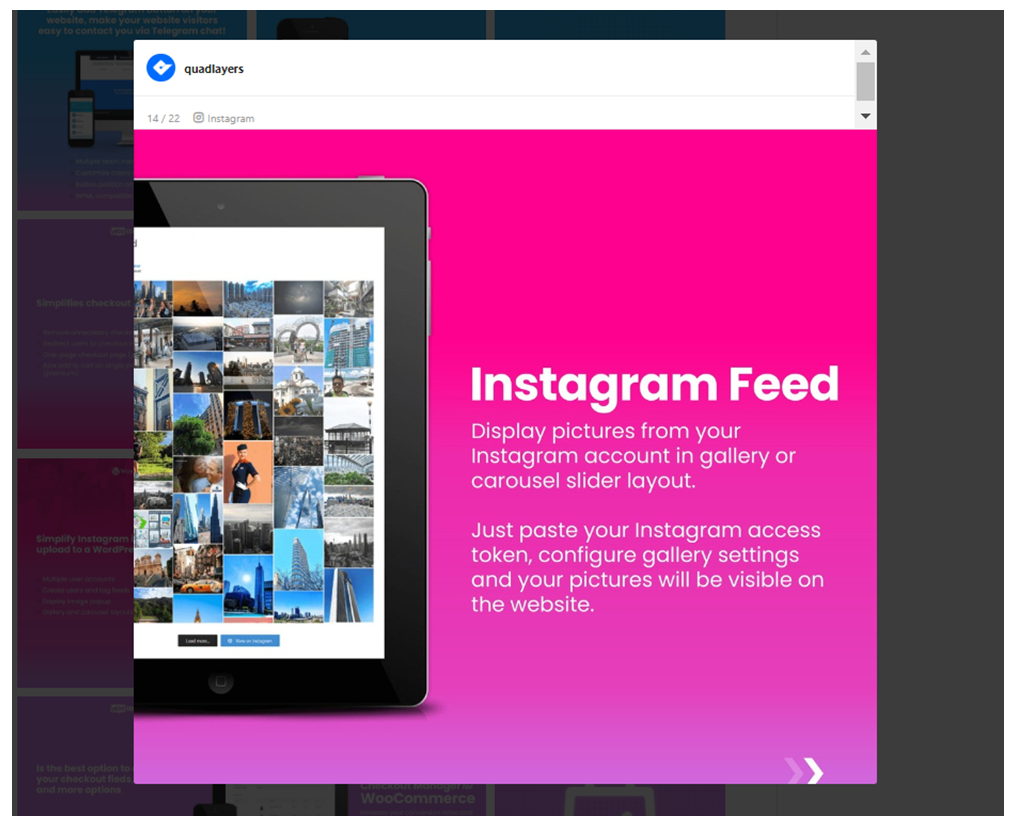 Button Load More
In this tab, you can display the Load more button that loads more images of the Feed and customize its style.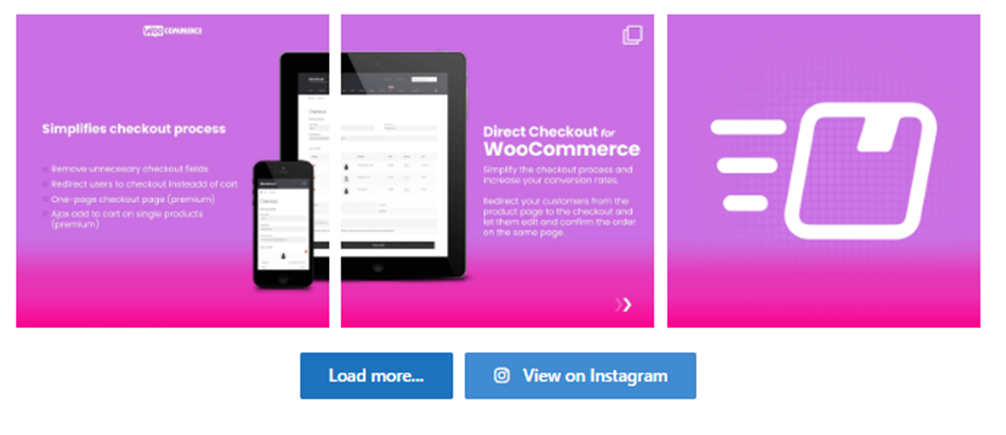 3. How to integrate the shortcode
Once you have linked the account and set up and customize your Feed, you can get a shortcode to display it on your website. You can display the Feed on post pages or any other area of your site.
After you finish setting up and customizing the feed, it's time to copy the shortcode.

Then go the Pages or Posts section of your website and press Edit on the page/post where you want to display the feed. Finally, paste the shortcode.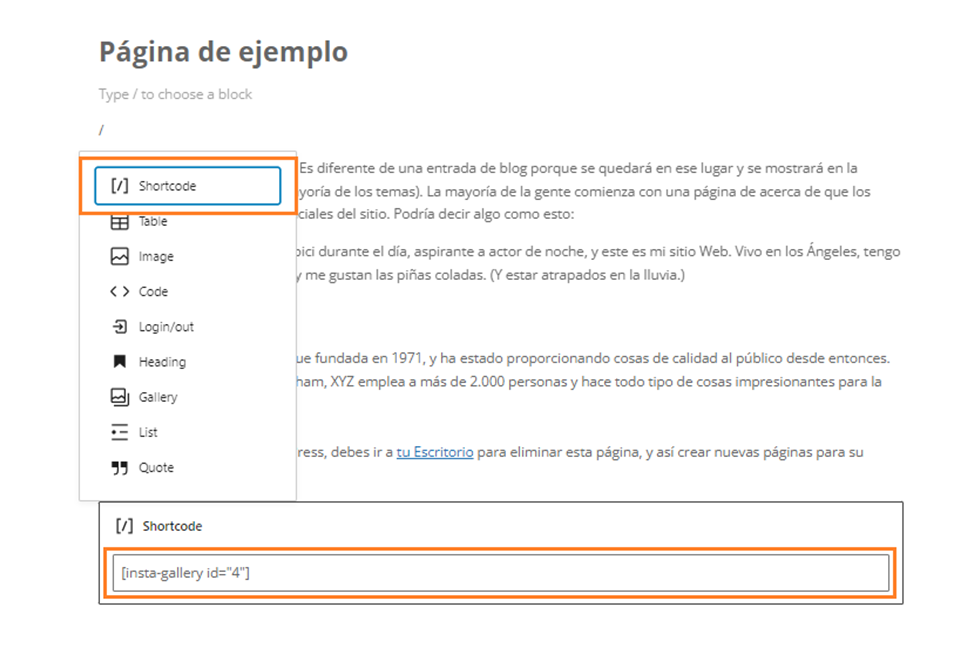 Now if you check your site frontend, you should be able to see the Instagram Feed on your website.
Gallery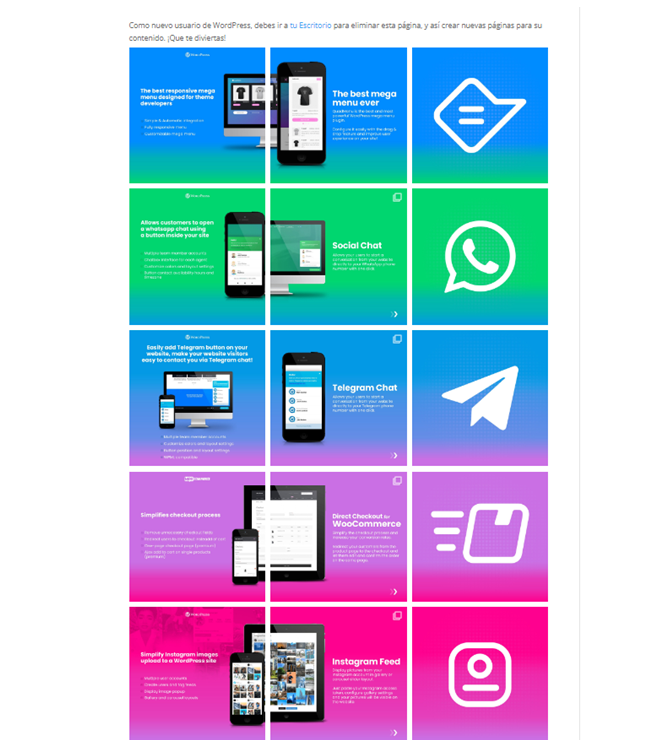 Carousel

Social Feed Gallery Features
Connect Personal or Business accounts
Easily integrate Instagram with WordPress
Display Instagram feeds on your website
Display feeds based on IDs (@) or tags (#)
4 layout options: gallery, carousel, masonry, and highlight
Customize the appearance of the boxes, images, backgrounds, masks, and buttons
Add a customized feedbox with an avatar image, username, and custom description
Add a Load More button
Customize colors and borders of the feed
Optimized API: The API is fully optimized to minimize the requests and reduce loading time
How much does Social Feed Gallery cost?
Social Feed Gallery is a freemium plugin. It has a free version with basic features and three different premium plans:
Free version: 0 USD
Personal: 49 USD (1 site)
Agency: 99 USD (5 sites)
Developer: 149 USD (unlimited sites)
So which one is the right one for you? If you want something simple with basic features and personalization options, the free version is good enough.
On the other hand, if you want to unlock the most advanced features, the premium version is the one for you. It allows you to add unlimited users, comes with masonry and highlight layouts, a "Load More button", and includes a lot more options to personalize the feed.
For more information about Social Feed Gallery, have a look at their official website.