Take a look
📌 VIDEO CHAPTERS
0:00 Joinchat plugin & addons
0:24 Minimal configuration
0:40 Some small settings
1:08 Activate Chat window
1:27 CTA extras
1:46 Visibility tab
1:57 Advanced tab
2:20 WooCommerce Tab
2:51 Configuration levels
3:35 Direct users to sales pages
4:04 Random Phone and Support Agents
5:15 Add more channels
System requirements
To get the best experience with the latest version you will need:
PHP: 5.3 or higher (7.4 recommended).
WordPress: 4.4.0 or higher (5.9 recommended).
Joinchat WP Plugin: 4.4 or higher.
This documentation assumes that you have already installed WordPress and Joinchat WP Plugin.
---
Installation
This document will guide you through the complete process of installing and activating Joinchat Premium on your WordPress site.
Note: The PREMIUM versions of Joinchat are extensions of Joinchat WP Plugin, so you must have the plugin installed. If you haven't installed it yet, download it for free from this link.
After purchasing Joinchat PREMIUM, visit https://my.join.chat
Log in with the details you received in the email after purchase.
Once you have logged in, in the left side menu, go to the Downloads section and download the .zip files to your desktop.
Go to the WordPress control panel and click on Plugins> Add New. Choose the zip file you just downloaded. Click install, then activate.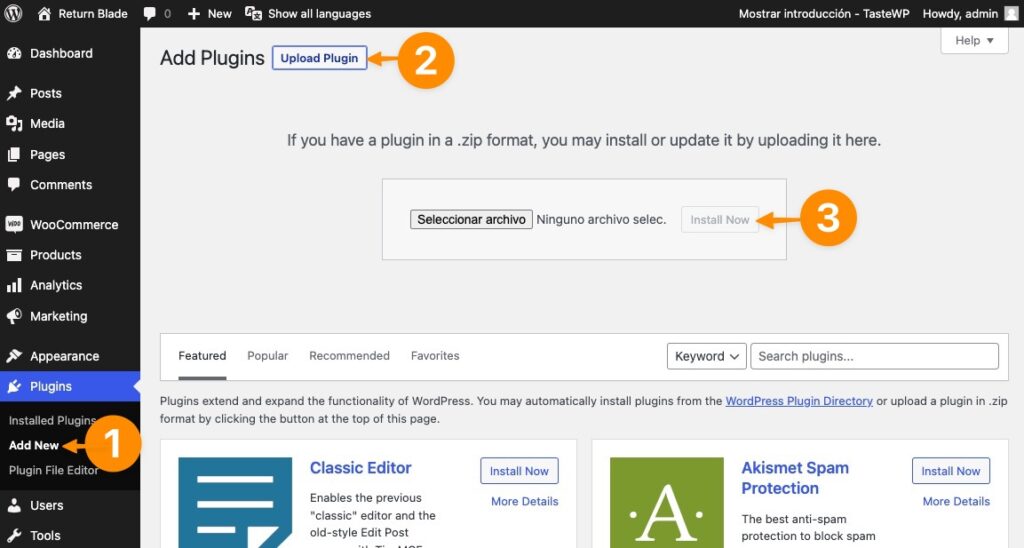 Repeat this process with each of the Add-ons you want to install, this allows you not to overload your WordPress installation with Joinchat functions that you are not going to use.