We are pleased to announce the launch of Joinchat version 5, the most popular WordPress plugin for WhatsApp, with over 600,000 installations worldwide.
These are the main features that version 5 brings, focused on improving the user experience. We have thought about you, our loyal users who use our plugin in your projects, we want to make it easier to configure and keep it updated.
🛬 Onboarding: Set up Joinchat from a chat.
We have simplified the setup process to make it more intuitive. Now, you can configure Joinchat through a visual chat, which will greatly simplify the process and allow you to have everything ready in less than 2 minutes. Plus, you can subscribe to a new «Tips» list that we'll send every two weeks with the best tricks to improve lead conversion through Joinchat.
👀 Preview: Visualize the appearance of Joinchat before publishing it.
With the new preview option, you can see in real time what the plugin setup will look like on your website. This way, you can make adjustments and changes before publishing, ensuring everything is perfect.
👨‍💻 Custom CSS: Add CSS from the plugin's own dashboard.
For those who want to further customize their experience, we have added the option to add custom CSS from the plugin's own dashboard. This will allow you to modify the appearance of Joinchat so that it perfectly matches the style of your website. Make the button larger, shift it upwards, change the look… there's no limit.
🚩 Direct Access to Translations: Easily access WPML or Polylang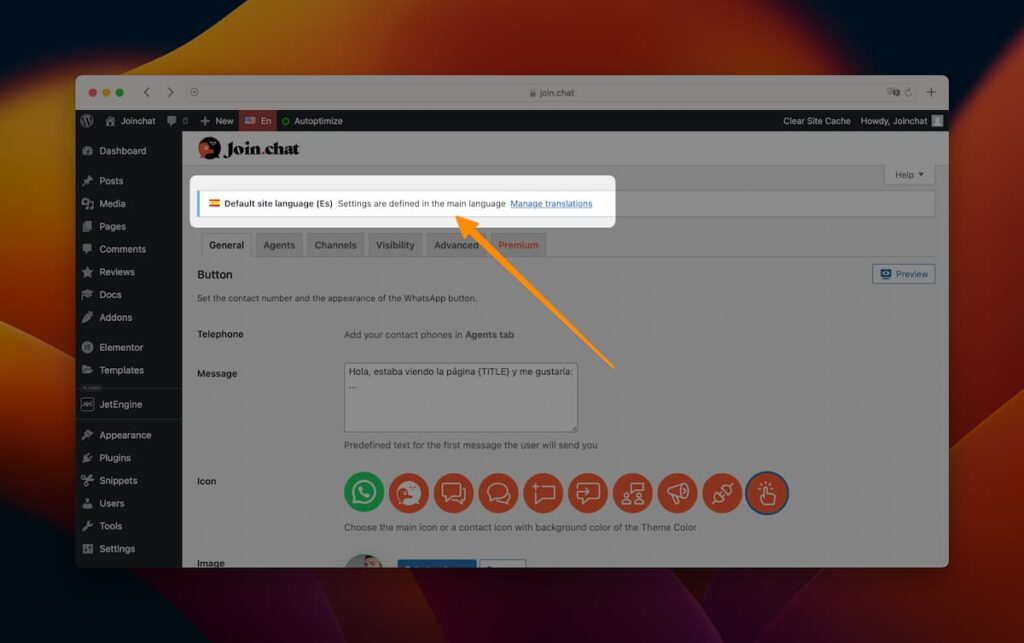 How many times have you had trouble reaching the translation chains of WPML or Polylang? That's over now. To make your daily work easier, we've added a shortcut that appears whenever there are pending translations.
🎊 Thank you for being a part of the Joinchat community
You can start with the totally free version, and if you need premium features you have it from only 49€/year