Messenger marketing is kind of like email marketing, but with way better results…
50-90% open rates 💥
25-50% click-through rates 💥
3-5x higher conversion rates 💥
Joinchat and Bothelp have a partnership
Chatbots help automate the process of many customer service requests and functions on a chatting platform, such as WhatsApp. It allows customers to message rather than having to worry about waiting for a customer service representative to answer their call.

Why BotHelp?
BotHelp is the leading no-code chatbot builder for WhatsApp, Telegram, Facebook and Viber to grow your online business, automate communication with clients, acquire new customers, increase sales and automate support, chatting, broadcasting and bots – all in one place!
Multi-platform chatbot builder
Write chat content once and talk to your customers directly on the messaging apps they already use!
Easy like Sunday morning
No-code platform – build your bot in 5 minutes.
Automatic sales funnel 24/7
Engage, qualify and convert your leads at any time of the day.
Perfect for online schools
Designed to make your edtech business work, with a proven track record of projects.
Simplify the buying process
Sell products, book appointments, nurture leads, capture contact info and build relationships – all through messenger.
Create your customer database
Get detailed analytics on conversions and traffic sources, segment and manage your subscriber base.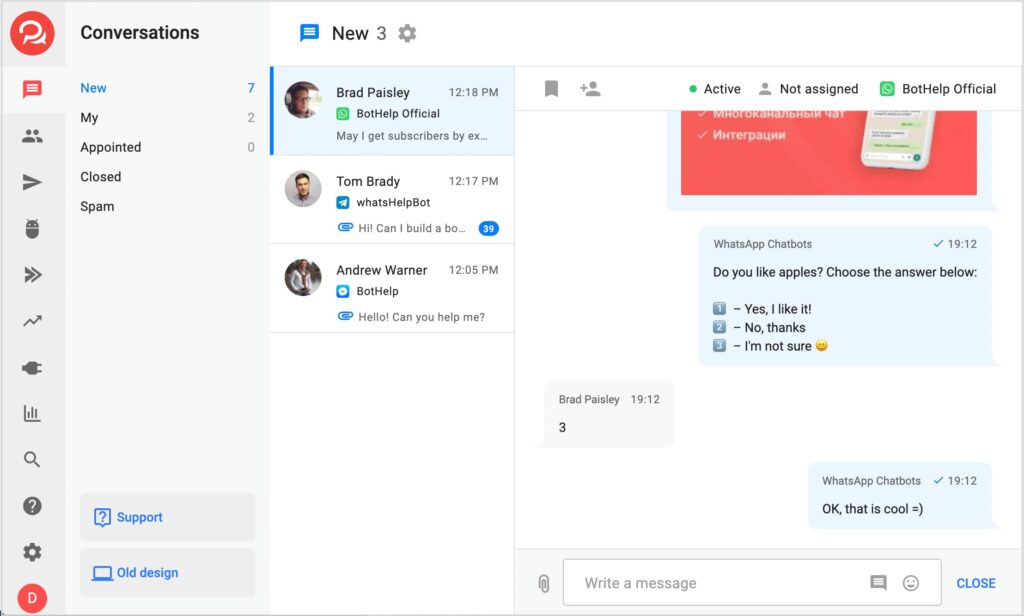 New opportunities with BotHelp in WhatsApp
Grow your subscriber base
All your clients, once subscribing to the messenger, stay with you forever. A huge advantage of all instant messengers is that you will keep the user's contacts, even if the person did not answer all your questions.
Manage contacts
Make lead segmentation directly on the messenger, find all the necessary data and transfer it to CRM for further work.
Support customers on WhatsApp 24/7
Offer support on an entirely new level: let your customers ask questions directly on WhatsApp in real-time and automate customer service with chatbots.
Team inbox for WhatsApp
Allow your customers to talk to you on their favourite messaging app with a multi-agent customer support tool. Leave no answer without response. Tags, custom fields, auto and saved replies, and more tools are available for your sales or support team.
Automate sales funnel and cut costs
Transfer your call center to a chatbot that works without human intervention. Build sequences and chatbots to automate the sales or lead qualification process – without coding. Bots can help you give a coupon, ask common questions or share content.
Capture leads and accelerate sales
Link your ads, website and social media profiles directly to a conversation, and help to simplify the buying process for both you and your customers.
Broadcast messages
Send broadcast messages on WhatsApp: shipping updates, delivery reminders, payment reminders and other notifications. Broadcasts can be sent immediately or scheduled for a specific date and time for a specific audience.
WhatsApp Message templates and buttons
Use message templates to send notifications and broadcasts to subscribers. Add interactive message buttons to increase conversion and click-to-rate.
Company name on WhatsApp
The company name is displayed on chats instead of a phone number. The check mark can be provided upon a request to WhatsApp Inc.

Next steps
All-in-one with promotional offer
21 days of free trial for Joinchat subscribers only!